By the Numbers:
Number of women and men who were served on the mobile unit: 76
Number of pregnancy tests provided: 70
Number of ultrasounds performed: 42
Number of women seeking an abortion or undecided: 21
Number of women and men who CHOSE LIFE  FOR THEIR CHILD: 12
Parenting women and men who received pregnancy education & community resource referrals: 51
Women who received purity and STD education: 21
Women who were open and heard the Gospel of Christ: 19
Thank you for showing up for Life! Without your prayers, gifts and support we would not have been able to provide all of the  services free of charge and 12 children would not be alive today!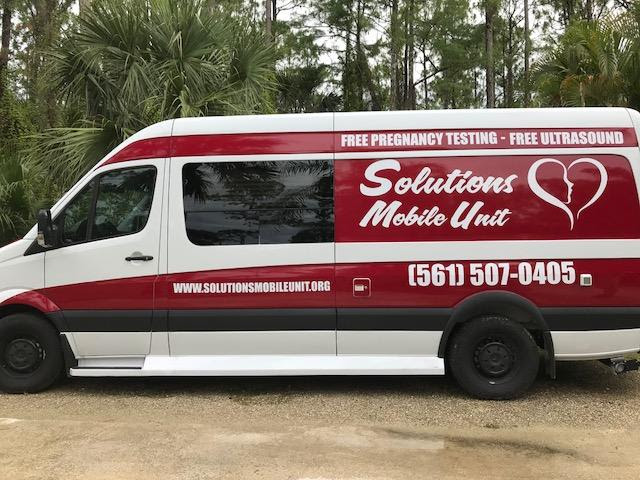 Two Locations! Two Units
We have added four additional locations and are operating six days per week so the women of our communities will always have a place to go. We believe that if there is an abortion clinic open, a pregnancy resource center should also be open. We work with our local pregnancy resource centers to ensure a woman always has a place to go to hear a life-affirming message and be offered life-affirming choices and resources. Currently, we are operating in: Boynton Beach, West Palm Beach (2 locations), Stuart, Delray Beach, Palm Beach Gardens, Lake Worth and Hollywood (for a short period of time.) We have also partnered with Urban Youth Impact, of West Palm Beach, and Bridges of Lake Worth to be parked at their location as an additional free service they can offer to their clients – whether choosing to parent or facing an unplanned pregnancy.